Originally performed in 2018
Bingham Methodist Church
19 Needham St
Bingham
Nottingham
NG13 8AE
A dashing prince is hosting a ball and Cinderella would give anything to go, but her wicked stepmother and ugly sisters have other plans. Can Cinderella escape their clutches and, with the help of her Fairy Godmother and best friend Buttons, find true love?
Will the sisters' father, the Baron ever invent something useful or will the debt collectors Borne & Bread catch up with him?
Expect elegant costumes, magnificent scenery, a good dose of slapstick comed, song and dance in Bingham's take on Cinderella. Our traditional family-friendly panto. Prepare to boo, hiss and cheer – oh yes you will! – in this fun-for-all production.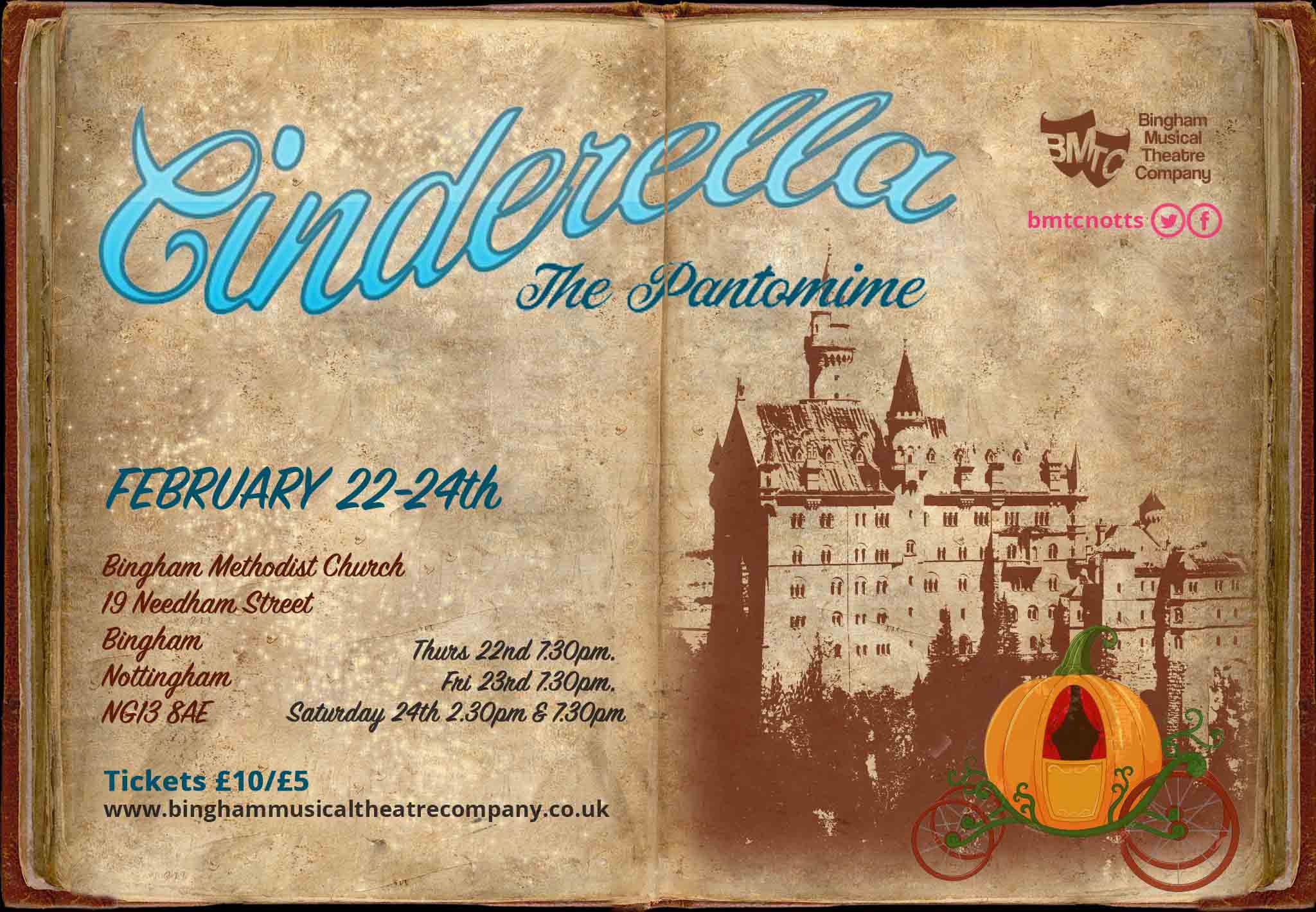 Cinderella: Emma Townsend
Prince Charming: Zoe Stebbings
Buttons: John Stebbings
Dandini: Emily Hudson
Baroness/Wicked Stepmother: Philippa Buchanan
Baron: Arun Hayes
Ugly Sisters: Paul Green and Anthony Alldread
Fairy: Charlotte Heafford
Bourne & Bread: Danica Halsey, Nik Hudson
Herald/Chorus: John Stebbings, Jenny Pike
Chorus: Ashton Coxon, Lizzie Beech, Emma Swatton, Tabitha Hamilton
Director - Graham Buchanan
Set Design & Construction - Philippa Buchanan & Nik Hudson
Choreography – Charlie Buchanan
Costumes – Becky Morley
Props – Alison Blackmore
Musical Composition – Lindsey Thompson & Graham Buchanan
Child Performance Licence/Chaperones – Zoe Stebbings
Light & Sound – Nik Hudson / Cathy Bodman
Want to see more?
View more of our productions, past and present
As a charity, we're always looking for ways to engage more local businesses and help them promote themselves too. If you are interested in an advert either on our website, facebook or in a programme, prices start from £10.
Email bmtc@hotmail.co.uk for info!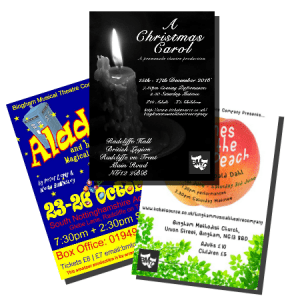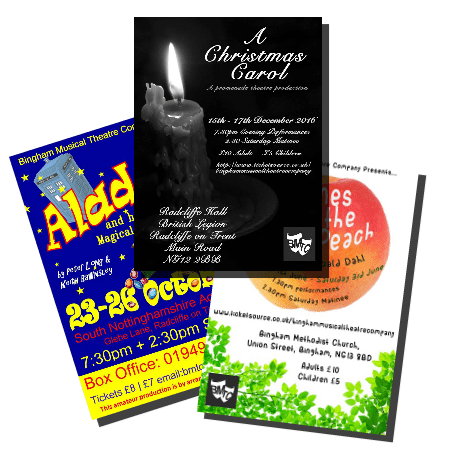 Were you in a previous show?
Send us your photos!
We're re-building our archives and would love to hear from people who have been involved or have had family members previously involved in either Bingham Musical Theatre Company, or it's former title Bingham Operatic Society.
Our team would be grateful if you have any information to help us fill our pages with wonderful memories, photos and stories of any shows you have seen or been involved with, prior to around 2012.
The picture archive we have is limited to our current committee's involvement, however we're aware there have been many talented people before us and really want to bring some of those past shows back to life!
Please get in touch if you have any photos - we would be happy to help you scan any printed ones for display on our website.