The Suicide Club (WW1 Play)
Originally performed in 2018
Bingham Methodist Church
Needham St,
Bingham, Nottingham
NG13 8AE
Saturday November 3rd 2018
3.00pm & 7.30pm
Bingham performance 'The Suicide Club' was a moving one Act play about a real-life local soldier to commemorate 100 years since the end of WW1. The play is based on the diaries of David Polley and was written by Darren Rawnsley (a Lincolnshire playwright and poet) and Alan.C.Mott (a historian and Grandson of David Polley).
A fitting tribute to commemorate the soldiers who fought for our country 100 years ago. We were also thrilled to be able to bring you a talk at every show from the grandson of the focal point of our play – Mr Alan.C.Mott.  This moving tale brought to life through the cast of Bingham Theatre Company. …all of this is included in the same ticket price!
As part of the build up to this show, our cast and crew also performed at the Village Hall in Denton as part of their memorial celebrations.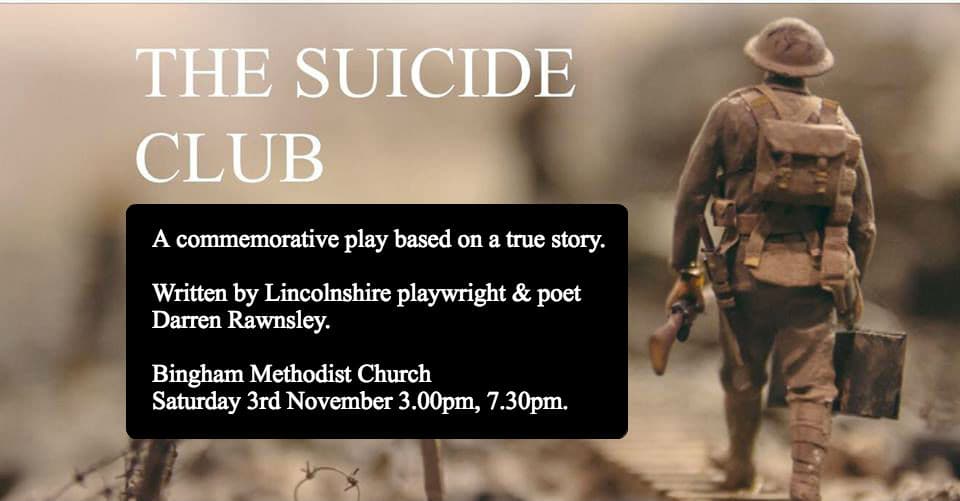 Charley Polley (brother to Polley) - John Stebbings
Company Sergeant Major - Paul Green
Frank (Polley's best friend) -
Bessie Louise Polley (Wife) - Philippa Buchanan
Eileen Polley (girl) - Charlie Buchanan
Eileen Polley (adult) - Alison Blackmore
Jean - Emma Townsend
Margaret - Zoe Stebbings
Corporal - Emily Hudson
Sergeant - John Stebbings
Officer in Charge - Lindsey Parr
Edith Smith WPC, Police Sergeant - Lindsey Parr
Shirley - Emily Hudson
Maud - Abi
Betty - Zoe Stebbings
Barman (Sam) - Paul Green
Director: Darren Rawnsley
Producer & Technical: Nik Hudson
Want to see more?
View more of our productions, past and present
As a charity, we're always looking for ways to engage more local businesses and help them promote themselves too. If you are interested in an advert either on our website, facebook or in a programme, prices start from £10.
Email bmtc@hotmail.co.uk for info!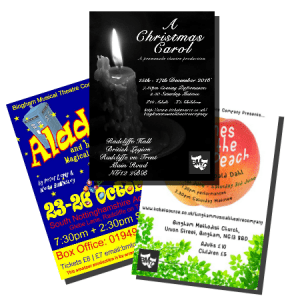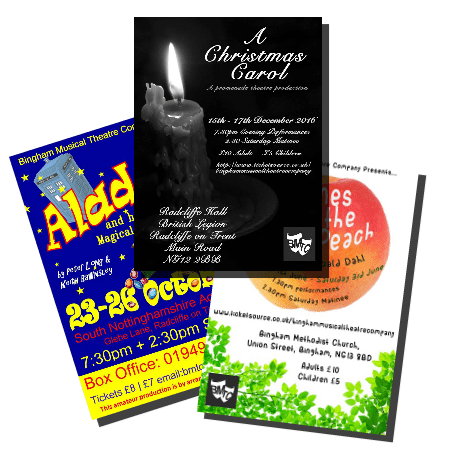 Were you in a previous show?
Send us your photos!
We're re-building our archives and would love to hear from people who have been involved or have had family members previously involved in either Bingham Musical Theatre Company, or it's former title Bingham Operatic Society.
Our team would be grateful if you have any information to help us fill our pages with wonderful memories, photos and stories of any shows you have seen or been involved with, prior to around 2012.
The picture archive we have is limited to our current committee's involvement, however we're aware there have been many talented people before us and really want to bring some of those past shows back to life!
Please get in touch if you have any photos - we would be happy to help you scan any printed ones for display on our website.