Originally performed in 2019
Bingham Methodist Church
Union Street,
Bingham,
Nottingham
NG13 8AE
BMTC's back with a fun-packed family musical based on Kenneth Grahame's much-loved classic – The Wind In The Willows.
Starring a huge cast from Bingham and the surrounding areas in a spectacular new production that's sure to be a laugh-a-minute adventure.
This riotous comedy follows the impulsive Mr Toad whose insatiable need for speed lands him in serious trouble. With his beloved home under threat from the notorious Chief Weasel and his gang of sinister Wild Wooders, Toad must attempt a daring escape leading to a series of misadventures and a heroic battle to recapture Toad Hall.
Featuring creative and inventive designs, exuberant choreography and a fantastic score, Toad of Toad Hall brings an explosion of anarchy, humour and heart to our little market town of Bingham!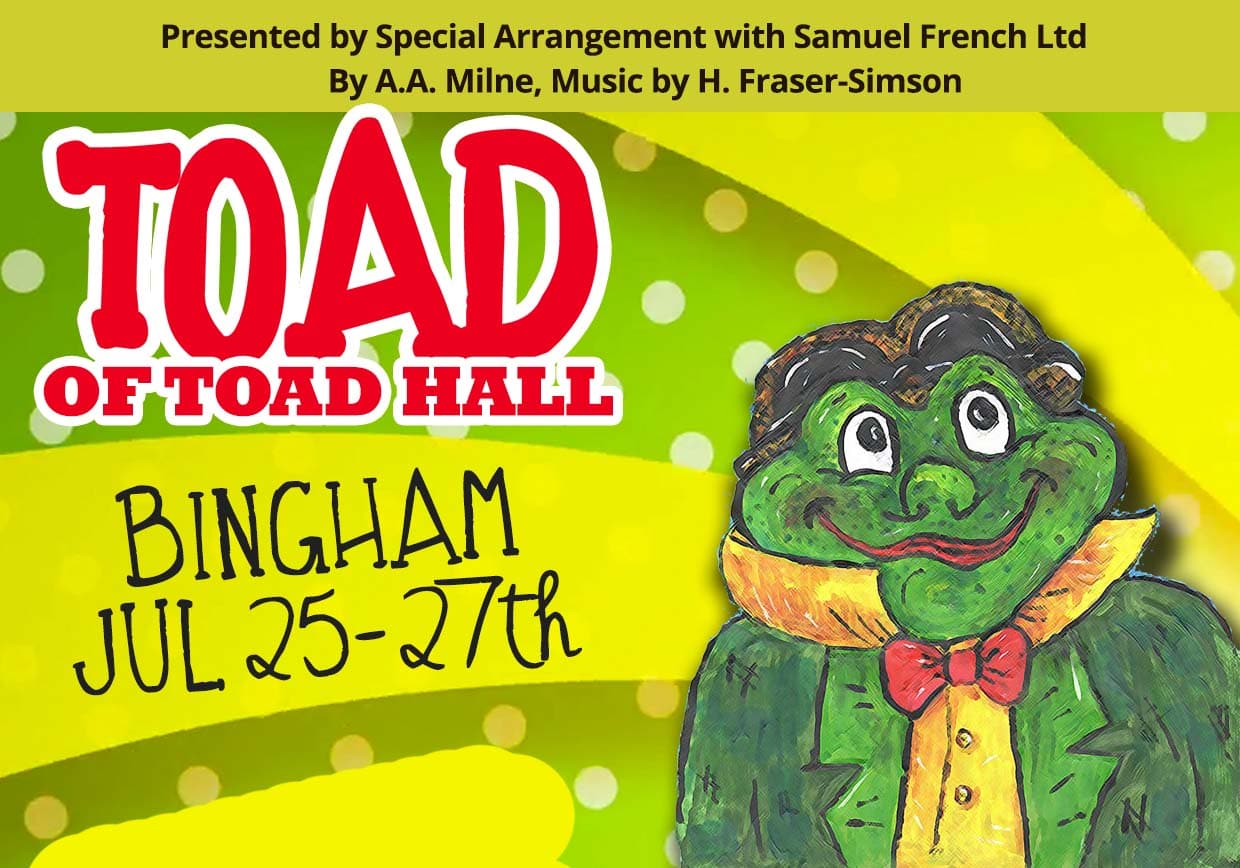 Marigold - Amelia J-D
Nurse & Usher - Nicola Jerem
Mole - Becky Morley
Badger - Richard Fife
Rat - Emily Hudson
Toad - Graham Buchanan
Alfred - Paul Green
Chief Weasel - Nik Hudson
Chief Stoat - Emma Townsend
Chief Ferret - Lydia Daniel
Phoebe & Caravan ensemble - Celia Bolstridge
Policewoman & Caravan ensemble - Alicia Cope
Judge, Mama Rabbit & Caravan ensemble - Ellen Loran
Gaoler & Wild Wood ensemble - Gary Measures
Washerwoman & Caravan ensemble - Lindsey Parr
Bargewoman, Squirrel juror & Wild Wood ensemble - Jenny Pike
Turkey, Fox, Ferret & Wild Wood Ensemble - Ashton Coxon
Duck, Ferret, Dancing Rabbit & Wild Wood Ensemble - Emma Swatton
Squirrel, Dancing Rabbit, Ferret & Wild Wood Ensemble - Elizabeth Beech
First Fieldmouse, Rabbit juror & dancing rabbit - Mia Hilton
Second Fieldmouse, Rabbit juror & dancing rabbit - Shelby Loren
Harriet Rabbit, Rabbit juror & Fieldmouse choir - Rose Hilton
Fieldmouse choir, Rabbit juror, Lucy Rabbit - Bibi Gordon
Fieldmouse choir, dancing rabbit and squirrel juror - Esther Daniel
Fieldmouse choir, dancing rabbit and squirrel juror - Ruby Fortune
Fieldmouse choir, Squirrel juror & dancing Rabbit - Holly Loran
Director: Philippa Buchanan
Do you have any information or photos to add to this page?
We'd love you to share your memories with us.
Want to see more?
View more of our productions, past and present
As a charity, we're always looking for ways to engage more local businesses and help them promote themselves too. If you are interested in an advert either on our website, facebook or in a programme, prices start from £10.
Email bmtc@hotmail.co.uk for info!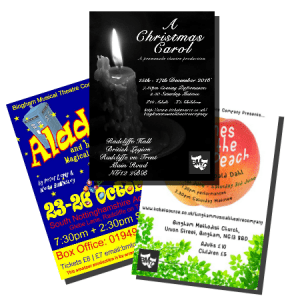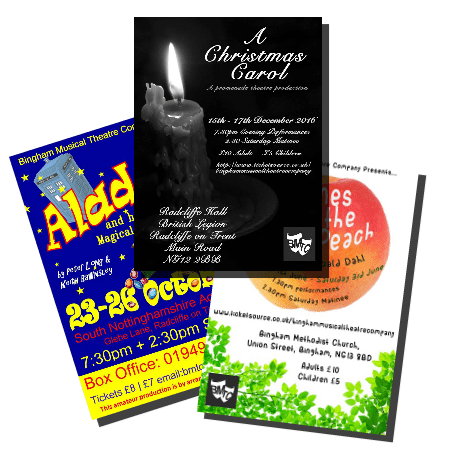 Were you in a previous show?
Send us your photos!
We're re-building our archives and would love to hear from people who have been involved or have had family members previously involved in either Bingham Musical Theatre Company, or it's former title Bingham Operatic Society.
Our team would be grateful if you have any information to help us fill our pages with wonderful memories, photos and stories of any shows you have seen or been involved with, prior to around 2012.
The picture archive we have is limited to our current committee's involvement, however we're aware there have been many talented people before us and really want to bring some of those past shows back to life!
Please get in touch if you have any photos - we would be happy to help you scan any printed ones for display on our website.