James & The Giant Peach (2017)
Through a series of peculiar and magical happenings, James finds himself in a giant peach with a bunch of friendly giant insects for travelling companions. Determined to find a better life, the insects bite the great peach free from its tree and launch into an amazing journey to freedom.
Why not sponsor our show?
Bingham Methodist Church
Union Street
Bingam
NG13 8BD
Charlie Buchanan – James
Mitch Gamble – Old Green Grasshopper
Zoe Stebbings – Miss Spider
Lindsey Parr – Ladybird and Captain of the Queen Mary
Anthony Alldread – Centipede, Aunt Spiker, Mr Trotter, Old Man
Paul Green – Earthworm, Aunt Sponge
Becky Morley – NY Tour Guide, TV Reporter, Mrs Trotter, 1st Officer
Elizabeth Beech – Chorus
Jenny Pike – Chorus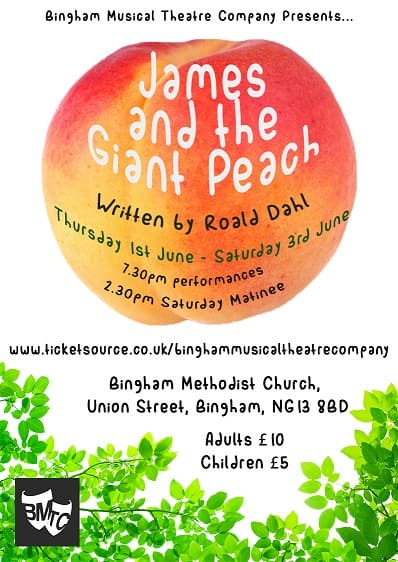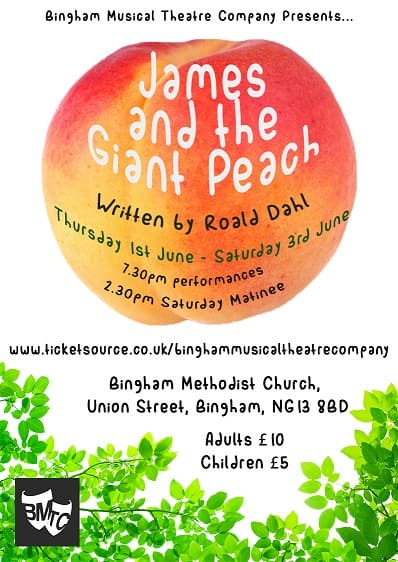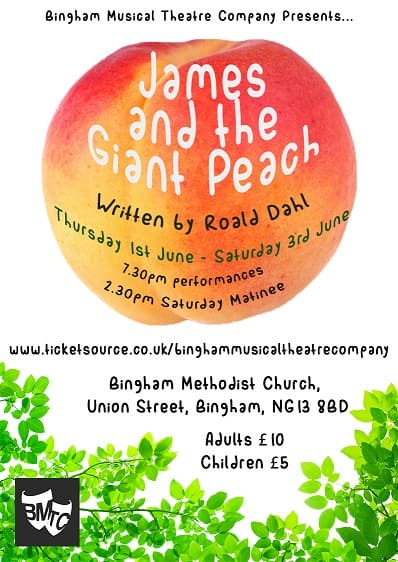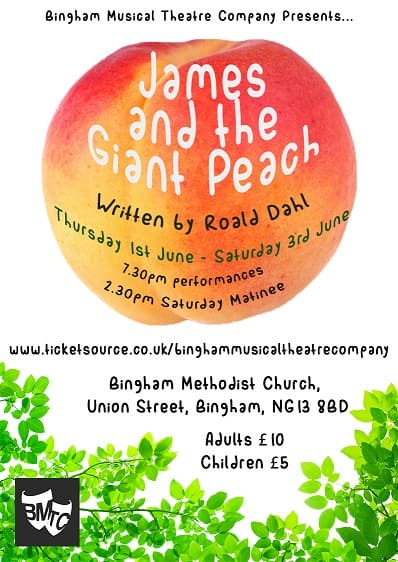 Show Dates: 1st, 2nd, 3rd June 2017
Production may contain flashing lights, strobe light effects, smoke and or loud noises.
If you are sensitive to any of these, please choose one of our relaxed performances which are adjusted to accommodate additional needs.
There is a kiosk serving non-alcoholic drinks from 6.30pm and during the interval. A range of snacks and ice creams is also available.
Programmes are currently free.
Photography is allowed but please avoid using a flash as this can distract our performers.